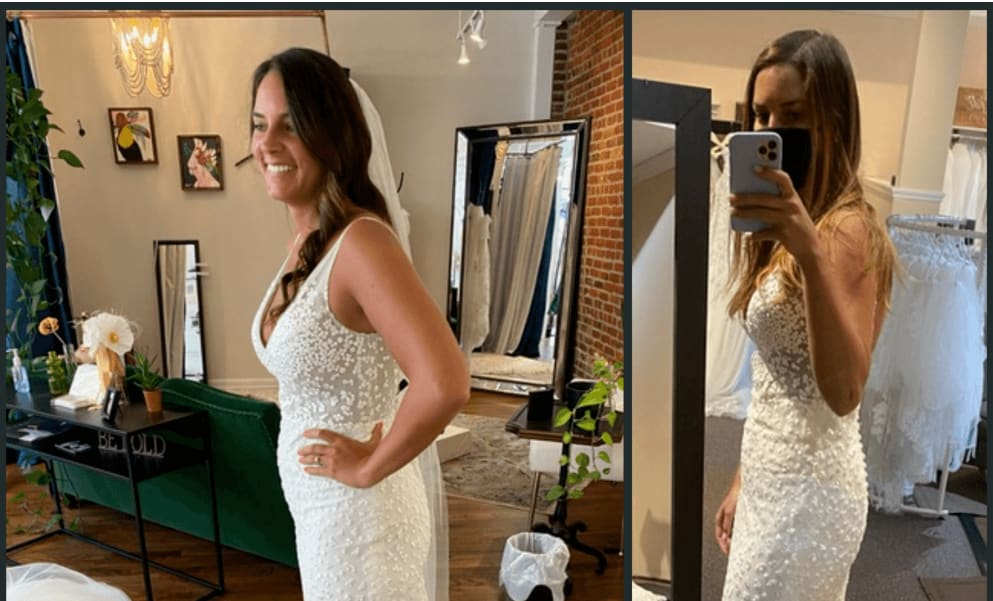 7 months! That's how long I had to get ready for my wedding on June 4, 2021. I knew I wanted to look my best for the wedding, but what I was doing on my own was not getting me the results I wanted/needed.

I grew up in Oceanport and drove by Our Team Fitness one day on my way to work. I reached out to them on their website and set up a one-on-one appointment. During that appointment we talked about my wedding, the goals I had, and how Jon and his team were going to help get me there.

Within two weeks I immediately felt stronger, I realized my stamina had also increased and I was able to maintain my intensity longer during the workouts. The coaches really challenged me and progressed me through every single workout as I continued to get stronger so the workouts never got easy! This is something that I love about Our Team Fitness because I never thought I could lift some of the weights or do some of the things I'm doing now and I never would have even tried if the coaches hadn't challenged me!

In the past, working out in groups would intimidate me but I have never felt that way at Our Team Fitness. The staff really helped me understand that your workout is about you and your goals, and everyone is just trying to do their best at the same time. It truly is a judgement-free place! Our Team Fitness has become a place I look forward to coming to in the morning 4-5 times a week. It sets me up to have a great rest of my day because I leave feeling accomplished and ready to take on the day.

When I started my dress fitting in September, I was in-between sizes and I needed to decide on whether to size up or to size down. Nervously, I decided to size down. Fast forward to January and my dress was HUGE on me! We had to cut inches…inches off!! Every fitting thereafter, we had to continue to make smaller alterations to tighten the dress. It was mind blowing to see the changes in my body. The inches I lost leading up to the wedding was incredible!

I cannot recommend Our Team Fitness enough. The extra attention and individualization in the Personal Training sessions has been key for me. The staff, along with its members have kept me motivated and helped hold me accountable and keep me going.
When I got into my 50's I lost the desire for a regular exercise routine like I had in my younger years. Other obligations in my life like family and work overshadowed exercise and it just wasn't as much of a priority anymore.

After getting an evaluation from the Our Team Staff, it really opened my eyes to where I had let myself get to. At 20lbs over my optimal weight, I had lost muscle and gained fat! Not the direction I wanted to be headed. Jon (the owner) and I mapped out a plan that I knew I could commit to and the rest is history. I joined Our Team Fitness in December of 2019 and since then I am down 15 lbs, 7% body fat, and have put 4 lbs of muscle on. I have more energy, less stress, and it's helped me stay sane during the pandemic.

Staying consistent has been the key to the results I've been able to achieve and Our Team Fitness has really made this easy for me. I personally love coming here. The coaches are professional and personable. You can tell they are there to do more than JUST give you a workout. They refer to their members as family and it really does feel like that. It's amazing how when you're working out with everyone, regardless of what exercise you're doing you feel like everyone is in it together and pulling for each other's success.

I look forward to seeing what I can accomplish over the next year!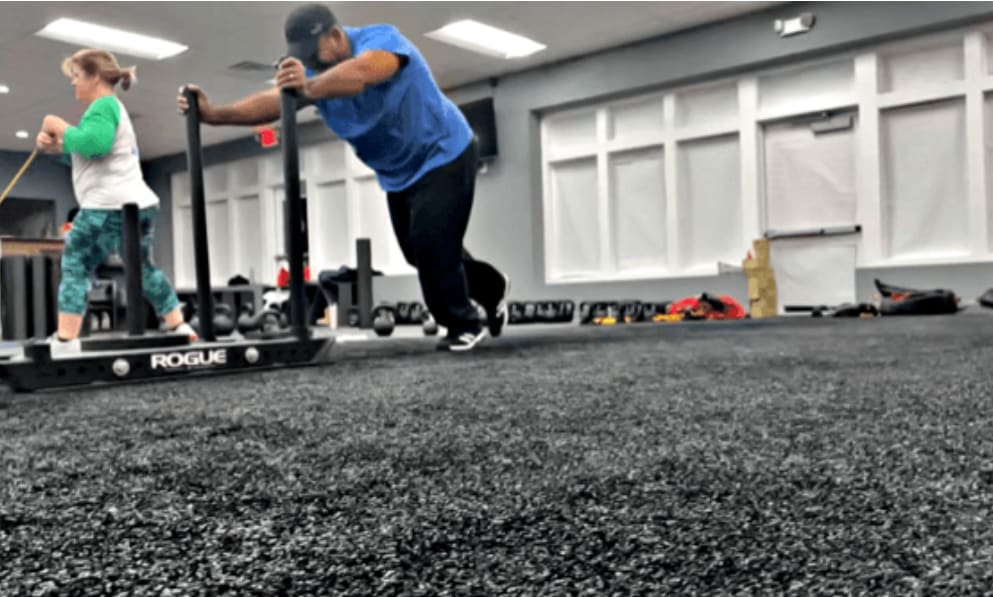 I've been a member for about 5 months now. Before I joined Our Team Fitness working out regularly was not one of my priorities and I couldn't see myself attending a gym. I had absolutely no interest in doing so, and while I recognized that I needed to make a change to improve my health and loose weight, it wasn't until my wife gave me the extra push I needed to come and give a gym a try.

Our Team Fitness has helped me lose 20 lbs already! It wasn't easy, and my biggest obstacle was sticking with my schedule. I usually take classes before 6am, but I needed to make a change and this has been a HUGE positive one in my life. The awesome environment, members, and the help you receive from the coaches on each exercise will help you get the best results from each session. You will sweat, but you'll see results! You'll love it!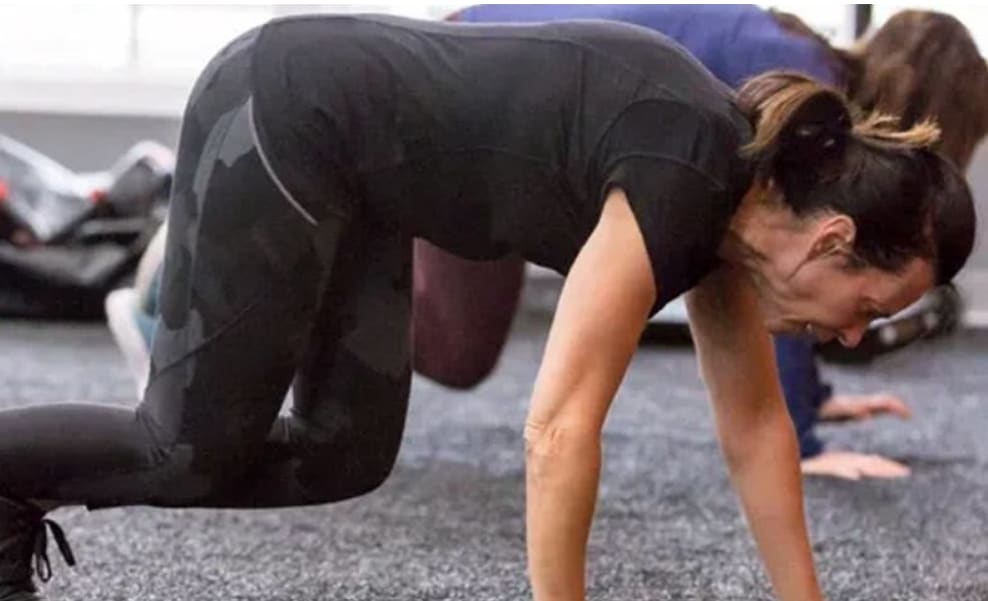 I joined Our Team Fitness 7 months ago because I wanted to feel better and make healthier decisions. My goals were to lose weight, gain more energy to keep up with my grand kids and to just feel better overall. I have a busy schedule and always found it hard to commit to finding time to exercise. Now, with the help of Our Team Fitness, I make time!

I'm down over 14 lbs and am feeling GREAT!! All the coaches push and challenge me beyond what I thought I could ever do. Rickie Lee, Suzanne and the rest my new Fit Family have supported me through every step of my journey! I love Our Team Fitness' team and individual challenges, they are really fun and help give me extra motivation to get to the gym. I've also fallen in love with the meal plans they put out because it gets me into a regimented schedule and I'm not grabbing what easiest to get a hold of to eat. I can't say enough about how Our Team Fitness has had a positive impact on my life!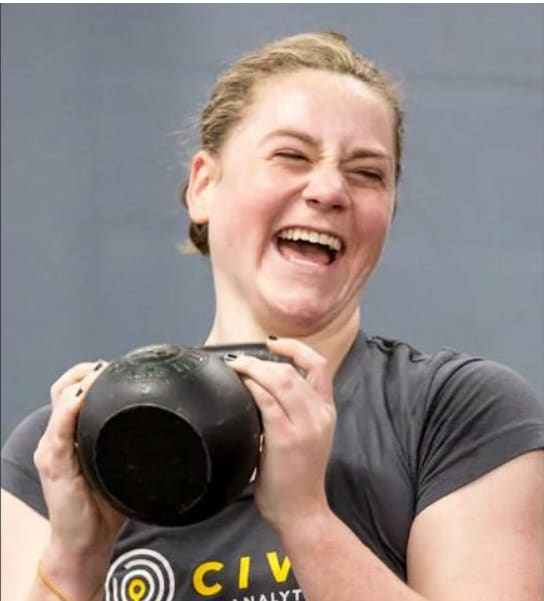 Being an athlete has always been a major part of who I am. However, after freshman year of college I had little to no motivation to work out, and I was the heaviest I have ever been. Then back in December I came to my first class at Our Team Fitness with my mom and I haven't looked back! Each workout has challenged and pushed me. I've seen myself getting stronger, make better choices with my diet, and I can't wait to get to my next workout when I leave!

Our Team Fitness has helped me lose my "freshman fifteen". One of the main obstacles I faced as a college student was finding the time to make it to the gym and when I did I didn't know what to do when I got there. Our Team Fitness has so many class times to choose from Small group personal training to Large group classes, it's easy for me to find a time/class that works for my schedule AND they have a full body workout waiting for me when I walk through the door.

My family has been my biggest supporter in my health and fitness journey, but what I found was my family got a whole lot bigger after I joined the gym. From the staff to the members, everyone has been so encouraging and supportive. Something I've learned since becoming part of Our Team is to remember you're not alone in your journey.. There are people out there who are willing and want to help you every step of the way.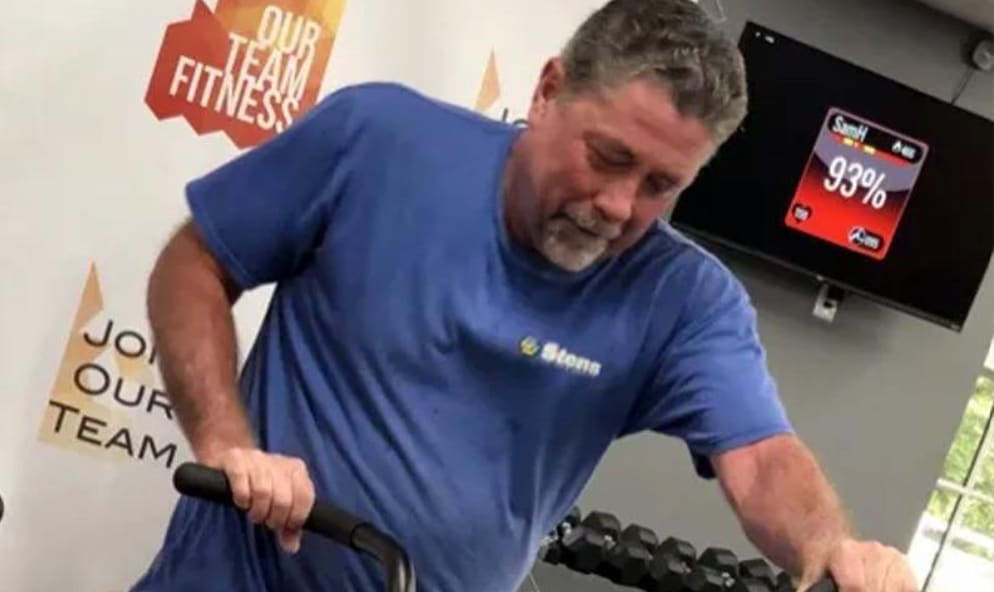 I've been working out with Our Team Fitness now for 16 months and I can't believe the changes I've seen since joining. As I approached my 60th birthday, I realized I had to make some changes in my life and get back into shape. I had joined gyms in the past, done the weight machine circuits, free weights, jumped on a cardio equipment, got bored and left. So, I was stuck, not sure what to do, or where to go. After talking with a friend, they mentioned Our Team Fitness and the impact it was having on their life.

I decided to give their 2 week trial a shot and after my 1st workout I knew this was not your typical gym. The personal attention you get while working in a group is phenomenal. They know your injuries and make modifications specifically for YOU. Not only is the staff very knowledgeable, but you can tell they really enjoy what they are doing. It shows in every class, people are sweating, laughing, and really enjoying themselves.

Since joining my knees are no longer cracking, my back isn't aching, I'm more flexible, cholesterol is down, AND I can do push ups! Thanks Our Team Fitness, now I look forward to getting up in the morning and going to the gym. Who would of thought!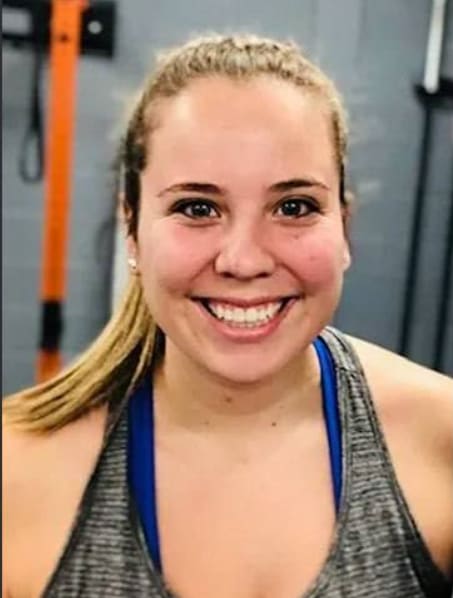 A year ago, I decided I needed to make a change in my life because I was unhappy with how my overall health was. I always was very active growing up, but after college I wasn't regularly exercising and I could start to see a decline in my overall health. I wanted to get back in shape, and after I noticed my body changing, not for the better, at only 24 years old I decided to get in shape. I knew it would be hard because we have way too many great places to go out to eat and grab a drink here at the Jersey Shore which I just can't pass up! I knew I couldn't just stop altogether, but I knew if I found a place that could help support me, hold me accountable, and kick my butt, I'd still be able enjoy the Jersey Shore.

I found Our Team Fitness and decided to let them try and help me reach my goals. I can't say enough about the tremendous help and support I've gotten so far! When I would go to a regular gym, I never knew what to do, I would stand there with a dumb look on my face saying now what. I never knew if I was doing exercises right or if I was doing what I needed to hit my goals. Now when I come to the gym, Our Team Fitness has my workouts planned for me and the coaches always make sure I'm working out with the right form. All of the coaches are extremely encouraging as well, whether it be getting an email from Rickie Lee about getting in for a workout to make the MVP board or getting pushed to make one more rep, they've helped me see that I'm on a journey and I won't get there in one day.

After a year at Our Team Fitness, I have lost almost 40 pounds! I am very happy with those results. It wasn't easy balancing going to work and school full time and trying to get back in shape, but I did it and I'm still not done! I need to give a quick shout out to my number one cheerleader… my MOM! She's shown me SO much support through this process and I wouldn't have been able to do this without her (If you don't know my mom, I'm sure you'll hear her singing or see her dancing in class!).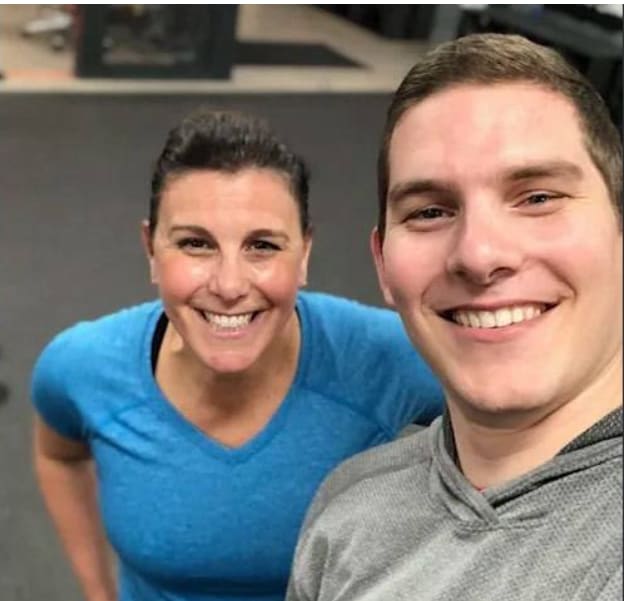 I joined Our Team Fitness in July of this year. I was always a relatively fit person and enjoyed being active. After a few years of taking care of everyone else and making excuses, I had become the least-fit I had ever been and then I was in an accident. The after math of this greatly restricted my ability to move freely, and also severely affected my balance and strength. After quite a few months of therapy, I was looking to expand on some strength training and get back to feeling better.

Our Team Fitness has been instrumental in encouraging me and helping me discover just the right workouts that fit my abilities, continues to support my rehab, and pushes me to become stronger each week. While my main goal was to become more active, as well as regain strength and build muscle. I also just wanted to be more physically active during the week to keep my energy up and have something to look forward to every day. I wanted to get back into shape and make my physical activity a priority. I wanted to show up for myself!

In the short time I've been a member, I have already noticed my endurance has greatly increased, I've begun to regain muscle as well as improve my mobility and flexibility. I love that I look forward to coming in as often as I can and continue to challenge myself.

I love the groups and classes I have taken and the really positive atmosphere that is such great motivation to (help me) continue my journey. I honestly feel better than I have in a long time and that is because I have made committing to Our Team Fitness a priority for myself.